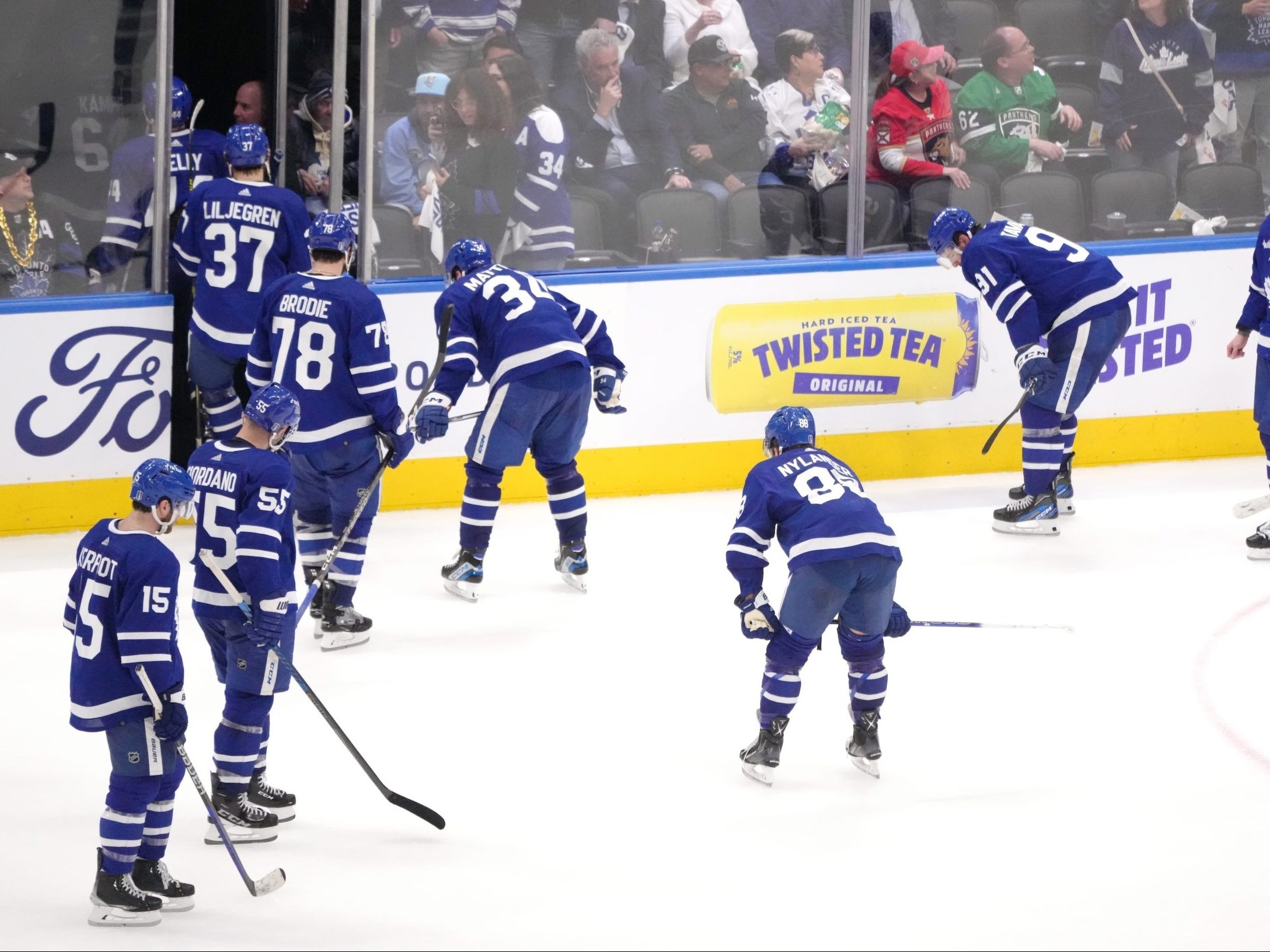 SIMMONS: Maple Leafs' season on the brink
Get the latest from Steve Simmons straight to your inbox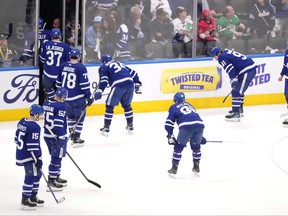 Article content
In the 90th game of a season suddenly going nowhere, the Maple Leafs are two losses away from ending what could have been a dream season.
Article content
This isn't pretty. This isn't nice. This is a little bit pathetic on the part of the Leafs.
Article content
Toronto scored all of four goals at home in the first two games of this best-of-seven series with the Florida Panthers, with all this apparent high-priced talent, and almost no production from any of them, a season now riding on fumes and not much else.
Article content
A season absolutely on the brink.
In just a few days, celebration has turned to angst, opportunity has all but disappeared, and all that felt right with the Leafs seems so very wrong today — and that's without crediting the Panthers, who have deserved both wins in the series.
And all of that, by itself, is a slap in the face. A slap at Auston Matthews. A slap at Mitch Marner. A slap at captain John Tavares. A slap at coach Sheldon Keefe. A slap at a team that lost 50-50 battle after 50-50 battle Thursday night. And if you do that, the late Pat Burns would tell you over and over again, you will lose every game.
Article content
The Leafs have lost both games in this series.
In the third period, the enigmatic William Nylander did almost everything by himself to bring the Leafs back. But he didn't get the bounce or two he needed. Sergei Bobrovsky was again sharp in the Florida net. And Nylander got next to no help from anybody he played with.
The Leafs led 2-0 early at home, the kind of start they needed against Florida. The kind of start they couldn't uphold.
The three Florida goals came on Toronto giveaways — one of them a weak one on Ilya Samsonov, who seemed to be guessing Thursday night but making most of the saves he had to make to give the Leafs a chance. But it was shift after shift, losing battles all over the ice, losing faceoffs, losing on board play, losing behind the net.
Article content
Simply losing.
This was the Leafs' eighth playoff game and thus far, they have outplayed their opponents sharply in one of those games. That's all. One of eight games. The other seven, including Thursday night's Game 2 against Florida, were played by a Toronto team in search of an identity.
You watch the Stanley Cup playoffs and you know who the Panthers are. You know who the Carolina Hurricanes are. You know who the Seattle Kraken are, yes the Seattle Kraken for gosh sakes. You know the identity of the playoff teams.
But do you know who the Leafs are?
What is their identity? What, if anything, makes them great?
"I don't think we have (dictated play)," said Morgan Rielly, who has probably been the best Toronto player in the eight post-season games. "We want to be controlling play, controlling the puck."
Article content
He said that in the morning. When the second period began, the Leafs up 2-1 having scrambled their way to the lead, they didn't — again — seem ready to start the period. Sometimes they're not ready to start. Sometimes they don't seem ready to end periods.
Florida scored at the 19-second mark of the second period, after a puck was stolen from Nylander and Sasha Barkov scored on a wrist shot that had to be stopped.
RECOMMENDED VIDEO
Clearly, that goal shocked Toronto.
Less than a minute later, Matthews tried to push a puck past Eetu Luostarinen and couldn't do so and a second or two later Florida led 3-2 on a goal by defenceman Gustav Forsling.
That was it for scoring on the night.
The Leafs had almost 39 minutes to tie the game. They couldn't do it. Bobrovsky was sharp. The Leafs were not. They even messed up an opportunity to pull the goaltender with more than two minutes to play and somehow couldn't coordinate something as basic as that. Coach Keefe waited until there was just over a minute to go before getting Samsonov out of the net, a minute of possible extra time wasted for no apparent reason.
Article content
That's the kind of night and kind of series it has been for the Leafs. The Panthers are beating the Leafs and the Leafs are beating the Leafs. It's tough to beat one team let alone two in any playoff series. It's tough when you're tripping over yourself in a game that occasionally looked like an Edmonton Oilers intra-squad match.
Turnover, turnover and more turnovers.
SIMMONS: Dare I say this – this soon – the Leafs can win the Stanley Cup!

SIMMONS: Sleepy Maple Leafs not sharp enough in Game 1 loss to Panthers

SIMMONS: Can the Maple Leafs stop Matthew Tkachuk, or even slow him down?
The two Florida goals in the second period were both scored against the line that includes Matthews and Marner. The two goals were scored against the apparent No. 1 defensive pairing of TJ Brodie and Jake McCabe, who have been on the ice for five of seven Florida goals in the series. The Leafs looked for a short time like they could get away with playing Mark Giordano, who is suddenly looking like the oldest player in the NHL. It seems like they can't now.
Article content
Go up and down the Toronto lineup and try and find the positives. There was Nylander in the third period. There was a little bit of Ryan O'Reilly and Alex Kerfoot early on. But who played well, like really well? Like raise-your-game-to-another-level well?
Did Matthews? Did Marner? Did Tavares? They lost while handling the big Florida line that includes Sam Bennett and Matthew Tkachuk.
"We beat ourselves a lot the other night," said Keefe before the game. Then they did it all over again Thursday night.
And now they have to climb Mount Panthers. They have to win four out of five. They have to — but it all seems impossible right about now.
RECOMMENDED VIDEO
Denial of responsibility!
NewsInnings is an automatic aggregator of the all world's media. In each content, the hyperlink to the primary source is specified. All trademarks belong to their rightful owners, all materials to their authors. If you are the owner of the content and do not want us to publish your materials, please contact us by email –
[email protected]
. The content will be deleted within 24 hours.