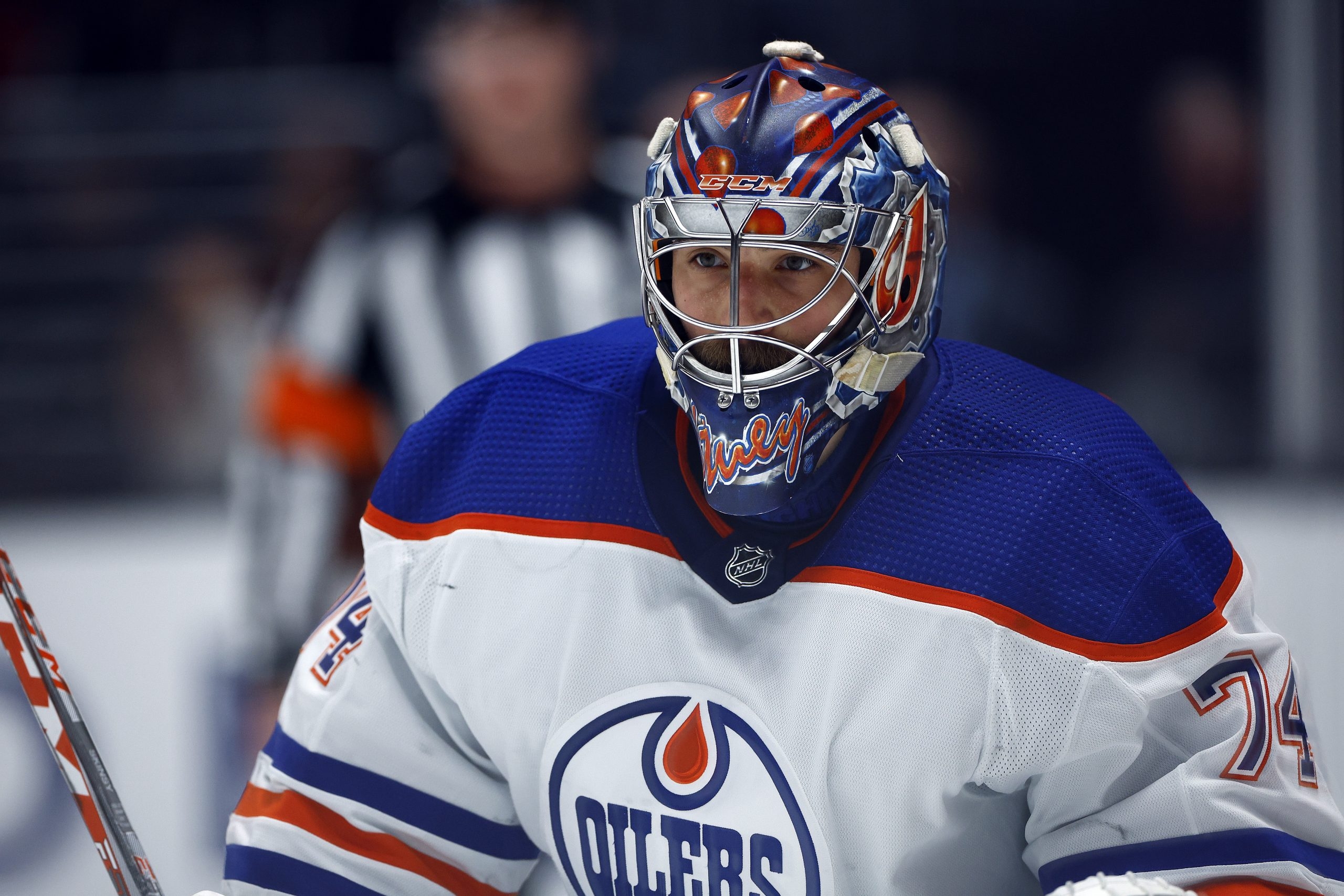 SIMMONS: Edmonton Oilers winning with Stuart Skinner isn't that crazy
Get the latest from Steve Simmons straight to your inbox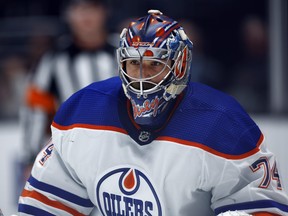 Article content
The list is longer than you might think: The group of rookie goaltenders who have won the Stanley Cup in a starting role.
Article content
Ken Dryden came from almost nowhere in 1971 to knock off the defending champion Boston Bruins, with Bobby Orr and Phil Esposito and went on to win the Stanley Cup. He played just six regular-season games for Montreal that season.
Article content
Patrick Roy talked to his goalposts in winning a Cup with Montreal in 1986 when he was barely known. Years later, Cam Ward replaced Martin Gerber and led Carolina to a Cup championship in 2006 that still defies logic. And after Matt Murray won in Pittsburgh for the first time, when he emerged from playing behind Jeff Zatkoff, Jordan Binnington was called upon in St. Louis for the Blues' stunning Cup victory of 2019.
Article content
In between all of that, the rookie Ron Hextall won the Conn Smythe Trophy playing for the Cup-losing Philadelphia Flyers in 1987 and eventual Hall of Famer Rogie Vachon took Montreal to the final in 1967.
Article content
This, in a roundabout way, brings us to Stuart Skinner and the Edmonton Oilers. Skinner is officially a rookie and a mostly unsupported candidate for the Calder Trophy. No Canadian team has won the Cup since 1993. That's an old story getting older by the day. But no Canadian team has played for the Cup in a season without quirks since Vancouver did in 2011.
Skinner is 12-1-1 in his 14 starts since the Oilers traded for the sound defenceman Mattias Ekholm. His goals-against average with the high-scoring Oilers is less than 2.30 since the deal. With the Western Conference as wide open as it appears — and Connor McDavid having a season for the ages maybe this is a year Canada gets back to the final.
Maybe even wins with a rookie goaltender. It has happened before. Longer shots than Skinner and the Oilers' list of stars have pulled this off in the past.
Article content
THIS AND THAT
For the record, goaltender Joseph Woll is also a rookie. Should the Leafs require him at any time during the playoffs, they have some past history to rely upon. And this season, between the Leafs and the Marlies, Woll has a 20-5-1 record … In Roy's four Stanley Cup victories, his win-loss record was 63-22 … A few days to go in the NHL season and this remains all but impossible to believe: Zach Hyman has more points than Auston Matthews, Steven Stamkos, Sasha Barkov and Alexander Ovechkin … Should the Pittsburgh Penguins miss the playoffs, this will be their first time on the outside looking in since Sidney Crosby's rookie season of 2006 … My favourite weird Crosby stat: He led the Penguins in scoring in 2011, playing in just 41 of 82 games. The only players ahead of Crosby in points per game in NHL history: Wayne Gretzky, Mario Lemieux, Mike Bossy, Marcel Dionne, Peter Stastny and Bobby Orr … They won't win coach of the year awards, but they deserve some recognition: Bruce Cassidy in Vegas; Dave Hakstol in Seattle; Jared Bednar in Colorado; Dean Evason in Minnesota; John Hynes in Nashville; Jay Woodcroft in Edmonton; Todd McLellan in Los Angeles; André Tourigny in Arizona; Lindy Ruff in Jersey and Peter DeBoer in Dallas … If you had Jim Montgomery standing beside Hynes, would anyone know one from the other? … If Mitch Marner misses out on the 100-point mark by one, he has every right to be steamed about the game Sheldon Keefe sat him out. The time to rest Marner was after he got to 100 … Consideration for second-place votes for the Hart Trophy behind obvious winner McDavid: Leon Draisaitl, David Pastrnak, Matthew Tkachuk (if Florida makes the playoffs), Crosby (if Pittsburgh gets in), Mikko Rantanen and Jack Hughes … Marner would be my pick as Leafs MVP, but in their case, it's more an elimination game than anything else. William Nylander was heading that way before his recent disappearance. This hasn't been a great season for Matthews. John Tavares has more points than you would think watching him play. Morgan Rielly had maybe his worst season in recent years. So it's Marner by acclamation. He'll get some Hart votes, but not many.
Article content
HEAR AND THERE
The rumbling around is that former Celtics bench boss Ime Udoka is the favourite to replace Nick Nurse as Toronto coach. But I wonder: Knowing the way MLSE has investigated job candidates in the past — it turned two down Leafs coaching possibilities in recent years — how will Udoka pass the smell test after the controversial ending in Boston? … My problem with the Raptors this season, among many: Who had a great year? Anybody? Pascal Siakam had great games. So did O.G. Anunoby, Scottie Barnes and Fred VanVleet. Rarely at the same time and rarely for any consecutive period of games. I don't remember a Raptors team as easy to dismiss as this one … There is no worse place to be in the NBA than the middle. You can't win playoff rounds. You can't get a decent draft pick. It's nowhere-land and that's where the Raptors find themselves as the regular season ends Sunday … If Kawhi Leonard is asked to play for the U.S. Olympic team in 2024, do you think he will say yes? … Hamilton's Shai Gilgeous-Alexander will finish the NBA season fourth in league scoring, with 31.4 points a game, just behind likely MVP Joel Embiid, Luka Doncic and Damian Lillard, and just ahead of Giannis Antetokounmpo, Jayson Tatum and Donovan Mitchell. Already, it's a Gilgeous-Alexander/McDavid/Summer McIntosh race for Canada's athlete of the year … My bet: One of the Milwaukee Bucks, Boston Celtics or Phoenix Suns will win the NBA championship … My Stanley Cup choice: A Boston-Edmonton final … Time passes quickly: Condredge Holloway's grandson, Aden Holloway, is going to Auburn next year to play basketball. He's considered an NBA prospect and has Canadian roots, via his mother. Might be a national teamer one day. In today's world, the senior Holloway would have been an NFL star instead of a CFL great.
Article content
SCENE AND HEARD
Math was never my best subject. Neither was business with Mr. Walenius. I went to a Toronto Six playoff game. Maybe there were 600 people there. So tell me, why are those with deep pockets willing to invest millions in women's hockey and why is the Premier Hockey Federation salary cap going up to $1.5 million per team when the live audience is still in some question? … And — go figure — franchise prices are on the rise, too … The Kitchener Rangers knocked off the first-place Windsor Spitfires in the Ontario Hockey League. The coach and GM of the Rangers happens to be Mike McKenzie, son of the legend, Bob McKenzie … Rick Tocchet is 17-11-4 since taking over as coach of the Vancouver Canucks. Last year, Bruce Boudreau was 32-15-10 after taking over from Travis Green. The Canucks have to figure out what to do in the first half of seasons … The displays are right beside each other at the Hockey Hall of Fame. Joe Sakic to the left, Steve Yzerman to the right. Which prompted the conversation: If you could only have one of them on your team in their prime, which one would you want? … Bo Horvat only has seven goals in 27 games for the Islanders, who have a 15-10-3 record since the trade from Vancouver. That's 97-point pace for Lou Lamoriello's team since picking up Horvat, who had 31 goals in 49 games for a losing Canucks team … This is what $35-million wasted dollars can get you in the NBA: Ben Simmons averaged 6.9 points a game when he played on occasion for the Brooklyn Nets. He did not attempt a single three-point shot in a three-point shooting league this season … Brandon Montour has 71 points from defence with the Florida Panthers. Over the previous three seasons combined, he had 74 points … This still amazes me: Orr scored 1.39 points per game in his career — which is 113-point scoring pace per season. No other defenceman in history is above 90 points a season. Paul Coffey scored at 89 points per 82 games. Orr scored 23% more points per game than any defenceman who has ever played. Al MacInnis ranks third all-time per game, a whopping 43% below Orr's totals.
Article content
AND ANOTHER THING
Not sure I like the way manager John Schneider changes his batting order almost daily. Clearly, he or the computers, or management likes the daily mish-mash lineups he's pencilling in. I'm old school. I like to know who is hitting where in the lineup pretty much every day … I do admire his presence, though … The more I watch Kevin Gausman through the spring and the early season, the more I realize what a mistake it was to pull him in the sixth inning of that now-crazy playoff loss to Seattle. Gausman is a pro's pro on the mound … In 1993, Jays finished 1-2-3 in American League in batting — John Olerud, Paul Molitor and Roberto Alomar — on their way to a second straight World Series win. The previous team to do that was the 1893 Philadelphia Phillies. As of Saturday afternoon — and, yeah, I know it's early — Matt Chapman, Vladdy Guerrero Jr. and Bo Bichette are 1-2-3 in hits in the AL … Also under the department of 'it is still early,' new centre fielder Kevin Kiermaier is hitting .360 with the Jays and the Tampa Bay Rays are on pace for a 162-0 season … As the late Tim McCarver once said: "I'm on pace to live forever." … The Blue Jays play a series against Tampa Bay next weekend. Right after that, the Leafs open a series at home against Tampa Bay … I do love watching the Masters, but I wonder: Can we edit out the bird chirping that's heard in the background? … The book on Jordan Luplow, just picked up on waivers by the Jays: He's a defence-first player, sharp from both corner outfield spots with a good arm. Can hit a little against left-handed pitching. A nice end-of-roster piece … Happy birthday to Pete Walker (54), John Hiller (80), Bianca Belair (34), Jacques Villeneuve (52), Rick Tocchet (59), Alexei Ponikarovsky (43), Scott Howson (63), Jamie Drysdale (21), CeeDee Lamb (24), Fred Smerlas (66), Adam Loewen (39) and Alex Gonzalez (50) … And hey, whatever became of Dave Barr?
Article content
SIMMONS: Women's hockey needs to end the great divide

SIMMONS SAYS: No clear choice in the Norris Trophy race for top defenceman
ARE THESE BRUINS ON PAR WITH THE '77 HABS?
This has been an amazing season for the Boston Bruins. But not as amazing as the numbers might indicate from a historical perspective.
Any day now, with a schedule that finishes up against non-playoff teams Philadelphia, Washington and Montreal, the Bruins should set the NHL record for most wins in a season. And maybe also set the record for most points by a team.
Their numbers are incredible. But the comparisons, past to present, are open to interpretation.
The Montreal Canadiens of 1976-77 won 60 games, lost eight, and tied 12 in an 80-game season, ending with 132 points.
Article content
Never mind that the season has grown from 80 games to 82. But what has changed the most is that NHL games no longer end in ties and the 12 ties of that Montreal season would likely have translated to five or more wins under today's overtime circumstances.
It's not improbable for the Habs to have won 66 games out of 80 under today's format, which would also have tied them for most points in a single season.
How dominant was that Canadiens team? It finished that year with a goal differential of +216, highest in hockey history. Boston is at an exceptional +121 with four games to play.
The NHL record for most points in a season by a team is 132. That came from the 1995-96 Detroit Red Wings and the 2018-19 Tampa Bay Lightning. It would not be surprising to see the Bruins end up at 133 points.
And they should be informed of this: Neither the '96 Red Wings nor the '19 Lightning won the Stanley Cup those seasons. They each won the Cup in the following year.
The Habs did win the Cup in dominant fashion in '77, winning 12 of 14 playoff games, outscoring their opponents 54-23.
Denial of responsibility!
NewsInnings is an automatic aggregator of the all world's media. In each content, the hyperlink to the primary source is specified. All trademarks belong to their rightful owners, all materials to their authors. If you are the owner of the content and do not want us to publish your materials, please contact us by email –
[email protected]
. The content will be deleted within 24 hours.