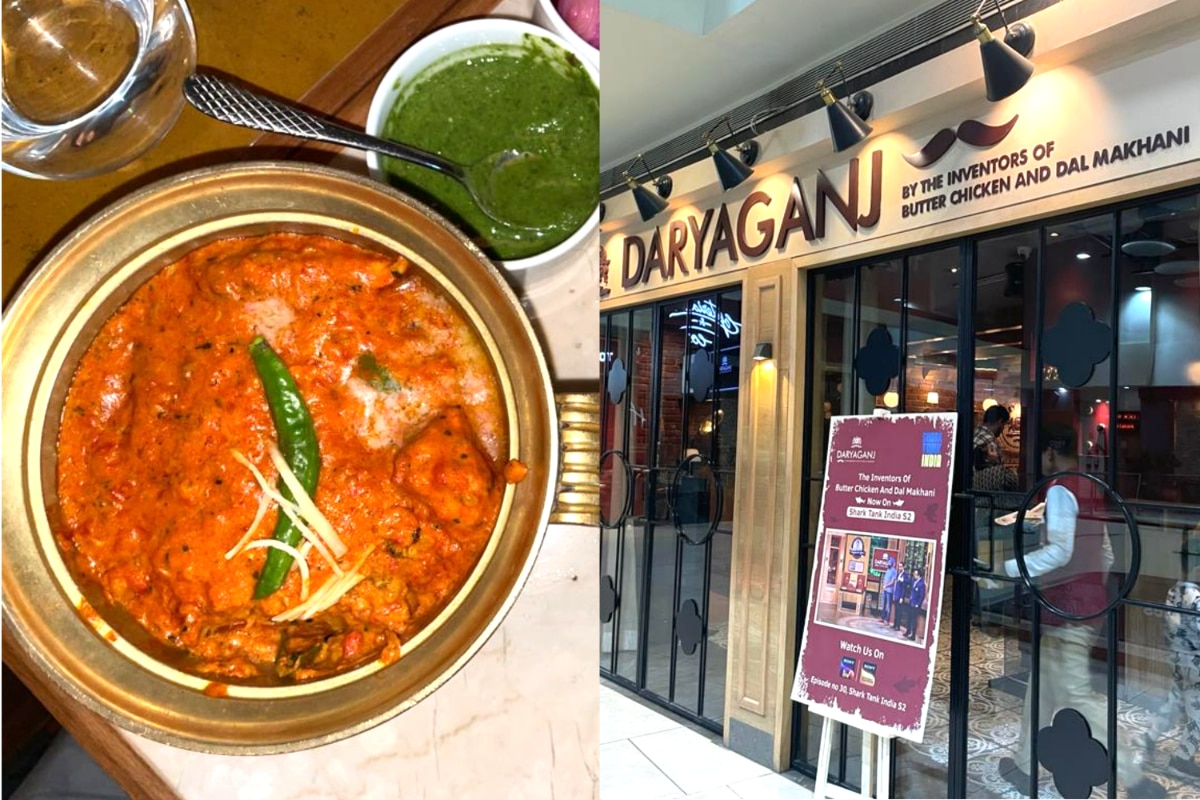 Nothing Like The Original Butter Chicken, Creamy Dal Makhani
Daryaganj Food Review: The original 1947 Butter Chicken is not so heavy on the stomach as only a bit of white butter is used with hand-crushed ripe tomatoes and tandoori chicken.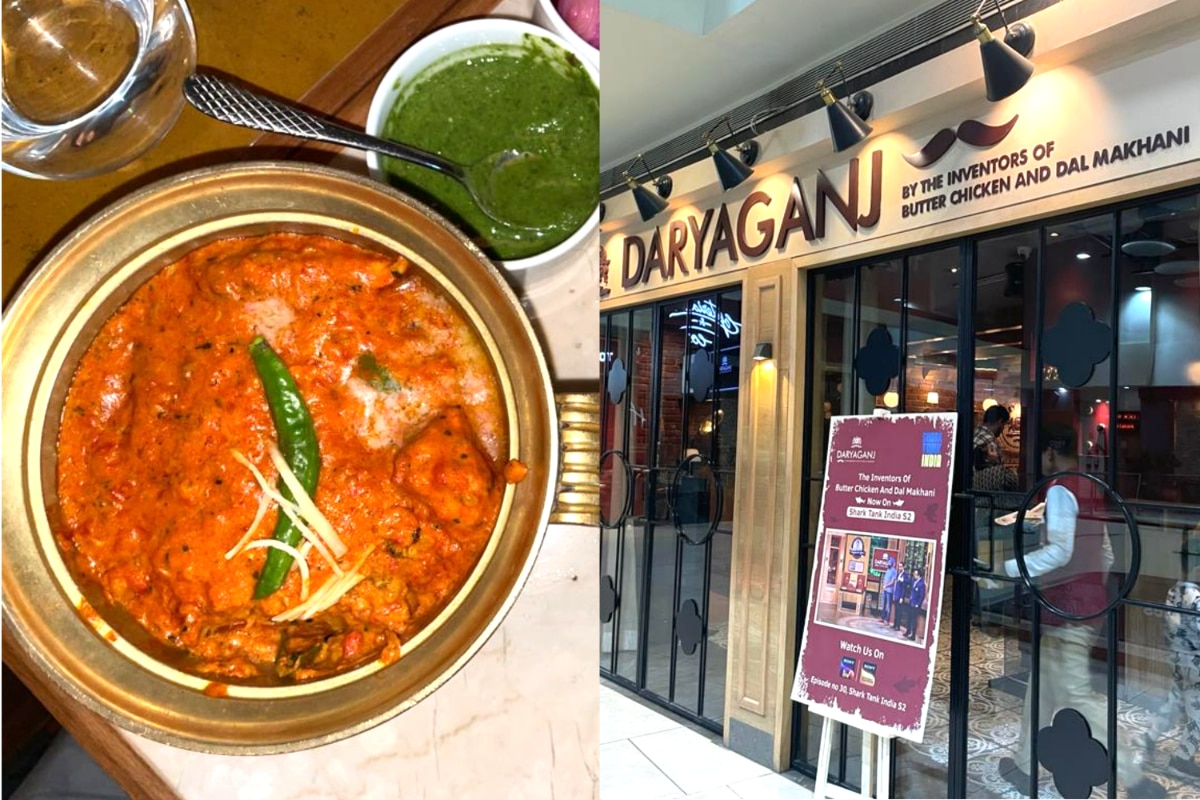 Whenever I used to crave gravy chicken in my childhood, 'Delhiwala butter chicken' was the keyword I used to tell my mother. Butter chicken's recipe has had its own share of twists and turns over the years by different people, different places and as per the regions it has been adapted into, but today when I look for a very authentic Delhiwala Butter chicken, there's one name that tops the chart – it's Daryaganj, who call themselves the Inventors of butter chicken and dal makhani.
Butter chicken also has its own story! Daryaganj is credited with coming up with the concept of mixing the tandoori chicken with a very buttery tomato gravy. The restaurant is a tribute to the culinary legacy of Late Kundan Lal Jaggi by his grandson Raghav Jaggi and Raghav's childhood friend, restaurateur Amit Bagga. An honest attempt to revive old-world, classic and authentic flavours with closely guarded secret recipes, Daryaganj has become the most loved and acknowledged restaurant by all three generations.
After making the history of being the first casual dining restaurant to feature on Shark Tank India, we visited at their one of the outlets in Delhi. As soon as we entered, our eyes stumbled upon the vintage frames, newspaper cuttings framed hung on the wall and red-brick interiors. Their USP is to give customers the original taste of butter chicken and dal makhani, not the ones that are made these days with cream (malai and yellow butter).
We saw happy faces enjoying the original butter chicken and tandoori chicken. So, we started off with Bhatti Chicken (chicken thighs, steeped in a distinctive spicy yogurt and mustard oil marinade, char-grilled in tandoor), which consisted of juicy chicken pieces on-the-bone. The chicken had a nice smoky taste from the tandoor and was really tasty. It was cooked well and the aroma was exquisite.
For the main course, we tried the Original Dal Makhani and the Original Butter Chicken. The butter chicken had moist and juicy chicken pieces that was been roasted in the tandoor, and the gravy was made with white butter and fresh tomatoes, rather than tomato puree which is used in most places. To be honest, it was not heavy on the stomach. We enjoyed these dishes with a selection of bread such as tandoori roti and garlic naan.
We also asked a few questions to Amit Bagga, Co-founder and CEO of Daryaganj about their experience of being telecasted on Shark Tank India season 2 and the response they are getting from the customers.
Q. How was the experience of getting into Shark Tank India? Did the sales increase after the episode was telecasted?
A. I believe to win a lottery you need to at least buy a ticket, which simply means to achieve something really big you need to at least try and not expect it to happen on its own. I decided to apply for Shark Tank after seeing a post about it pop up while I was surfing some random websites. I didn't think the wildest of my dreams that we would make it to the final round and get funded. Overall, it was a great experience. Sales have shot up like anything. Our delivery sales are at 2.5 x and our Dine-in sales are at 1.5x. We can't go further than this in the dine-in segment since there is a certain limit to the capacity of the seats. We've received a great response, and there have been queues of customers waiting for reservations, since the days we've been featured on National Television.
Q. What are the learnings you will take from Shark Tank India?
A. There should be a story that should attract people to cover you. Today, We have a great story of a legacy and growth attached to it. Also, Innovation is the key. We are always experimenting with combining old methods with new ideas. We believe in innovation in design, and processes through technology and analytics. Daryaganj has developed Unique packaging design products and concepts.
Q. Were there any shots that you think must have been telecasted, but the makers didn't show? Would love to hear!
A. Yes, there were a few very interesting shots that were not shown, including a complete segment about the 5 senses Delivery Box. Daryaganj innovated a unique delivery concept, The world's first ever "Five Senses Delivery", that allows you to touch, see, hear, smell and taste the delights of Daryaganj. The innovative food delivery box uses soothing materials to touch, vivid design colours and fresh ingredients used to make a wholesome vision. A fragrant welcome note that captures the scent of Daryaganj. The 1947 Nostalgic flavours to taste and lastly a QR Code to scan, which immediately plays the specially curated Daryaganj Playlist. We also mentioned why we are in this segment and about our pricing strategy.
We also joked with Namita about the 'circle of competence' from her book The Dolphin and the Shark – that would have been an interesting clip.
Q. As the recipe for butter chicken of Kundan Lal Jaggi is almost the same /near to, what are the parameters you keep to maintain the similar taste?
A. There are certain cooking techniques that have been used throughout the country for centuries and have formed the bedrock of the cuisine, giving Indian food its unique and delicious identity. Daryaganj makes sure to stick to the roots, thus bringing to you the Original Flavours of 194. These techniques have been preserved by Daryaganj as a secret. The right balance of spices and the quality of tomatoes, we source make the most of the difference. We make sure we are getting these tomatoes grown organically, the way we want them, keeping in mind the size, colour and texture is what makes us different.
Q. You have got a great deal from shark Aman Gupta! How has he helped you and what is the 'tadka' Aman will use to scale up Daryaganj?
A. Aman Gupta will be a guiding light. Although he won't be involved daily, he's personally taking interest and has been following up on how it's been going since the airing. We hope to have him officially soon, as the due diligence process is still ongoing.
Q. Also, there has been a battle going on for a long time about 'Who invented butter chicken?' – between Gujrals and Jaggis. Both the partners' grandsons have different versions of the butter chicken invention. What do you want to say?
A. Well, we are not aware of 'other versions', what we can tell you is the version from the man who created this dish itself, Shri Kundan Lal Jaggi and not a lost in-transit version. The roles of all 3 partners – one being the face, one managing the Kitchen (Kundan Lal Jaggi) and the third managing the finances were always well documented and clear.
(Disclaimer: The author's thoughts and opinions are his or her own, and they may not represent India.com's official positions or policies. Any claims resulting from the article's content are exclusively the writer's responsibility.)
Denial of responsibility!
NewsInnings is an automatic aggregator of the all world's media. In each content, the hyperlink to the primary source is specified. All trademarks belong to their rightful owners, all materials to their authors. If you are the owner of the content and do not want us to publish your materials, please contact us by email –
[email protected]
. The content will be deleted within 24 hours.