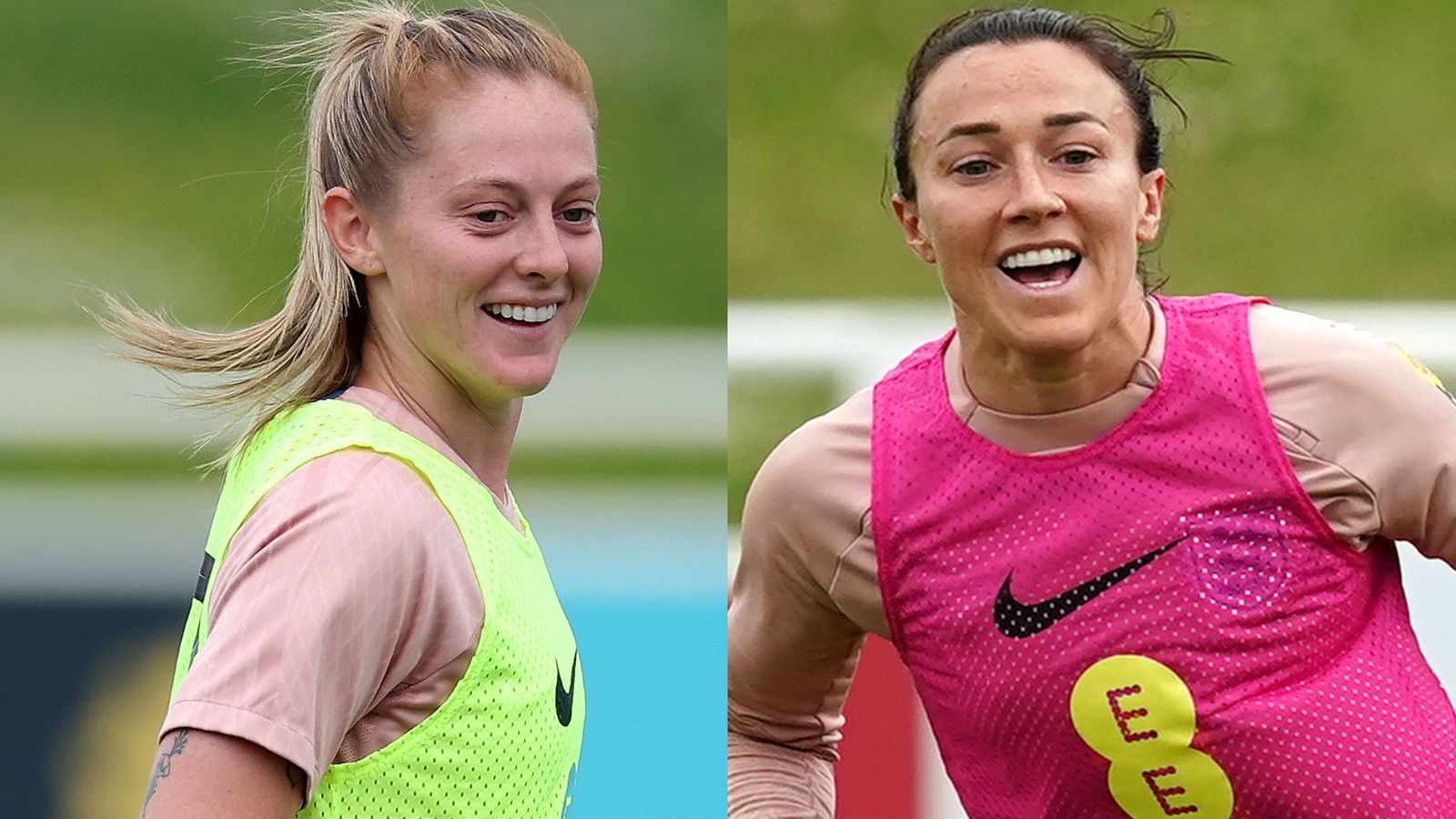 Keira Walsh and Lucy Bronze: England and Barcelona duo on how moving to Spain has changed their game and the Women's World Cup | Football News
After last summer's victorious European Championships, England Women duo Keira Walsh and Lucy Bronze both left WSL club Manchester City for European powerhouse, Barcelona.
Already considered among the best in their respective positions in the women's game, the pair have added the LigaF title and Champions League trophy to their ever-growing cabinet.
Although Walsh admits she moved to Barcelona to win the Champions League, she credits the move to Spain with changing how she views the game – an interesting development for a player who already looks to be at the top of her profession.
The 26-year-old midfielder also believes there are a number of similarities between the Barcelona and England camps, both of which have had numerous successes over the last few years.
Speaking at a Lionesses media day at St George's Park ahead of the Women's World Cup, Walsh said: "As a player, I think the way that I see the game now [has changed].
"At City, I was probably told to stand still a lot more and wait for the ball to come to me, whereas at Barcelona, it's about moving all the time and most of the play goes through the middle so I always have to be an option. Maybe here [with England] and at Man City, it's more wide with more crosses whereas at Barcelona, it's not.
"I'm fitter and sharper than I probably was in terms of trying to look for the ball, Defensively, I think Barcelona are a lot more streetwise than other teams with the tactical fouls and trying to slow the game down. I think that's something I've added to my game whereas before, it was probably different in that sense.
"I think I'm just more comfortable in the way I play. I'm probably not going to change so much now, I'm going to improve, but the way I play is the way I play so if people like it, they like it and if they don't, there's not a lot I can do about that.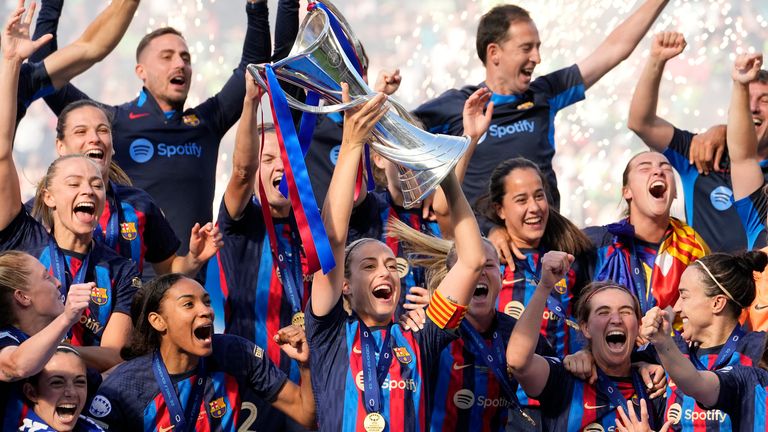 "I think the way that England play football is kind of a similar idea but obviously Barcelona is very structured. They have a very set way of playing in terms of keeping possession, the way they move and the way they work.
"But the competitiveness and goals that we set out to achieve as a team [are similar], I would say team spirit is similar too in terms of having good vibes, but when we're on the training pitch, it is very competitive. Obviously here, I get to speak English, there I can't so much. I think I'm very lucky to be playing in both these teams to be honest."
Bronze, too, believes her game has developed during her year in Spain, but perhaps not in the way that some people may expect.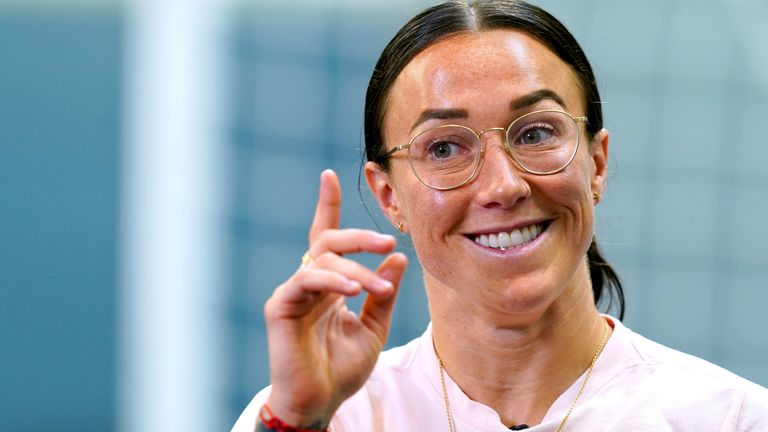 The right-back explained: "My role at Barcelona is different to what it has been in previous teams, but the experience I've had is probably a little bit different to what people might expect to be.
"People say 'oh you play like the Barcelona style' whereas actually, every single Barcelona player only wants to play with the ball, so the responsibility of defending falls a lot more on my head than it does elsewhere, which is different to England.
"It's given me a different outlook on how to play football, I think Keira is the same. The pair of us drive a different kind of standard now in England training that has never been there before so I think we've been able to add that when we come back in the camps.
"Not the style of play necessarily, but the expectation and the quality that you expect from teams that win the Champions League and playing with the best players in the world at Barcelona."
As the England women's squad begin their preparations for the World Cup at St George's Park we are given a tour by the FA women's technical director Kay Cossington.

'World Cup has different feel to Euros'
Both Bronze and Walsh played at the previous World Cup in 2019, where England were knocked out by the USA in the semi-finals.
Bronze will be featuring at her third World Cup, and says the experience is far different from that of a European Championships, even for those who were part of the squad last summer.
"I think a World Cup has a different feel to a Euros anyway and a Euros at home especially was something that I had never experienced before," she said.
"I think the girls who haven't experienced a World Cup, even the girls who went to the Euros, when we finally fly to Australia, will be like 'this is what a World Cup feels like'.
"I think we could have kept a lot more players from the Euros but there still would have been people who are inexperienced in terms of playing at World Cups. For me, one of the most enjoyable moments in my career was playing in a World Cup."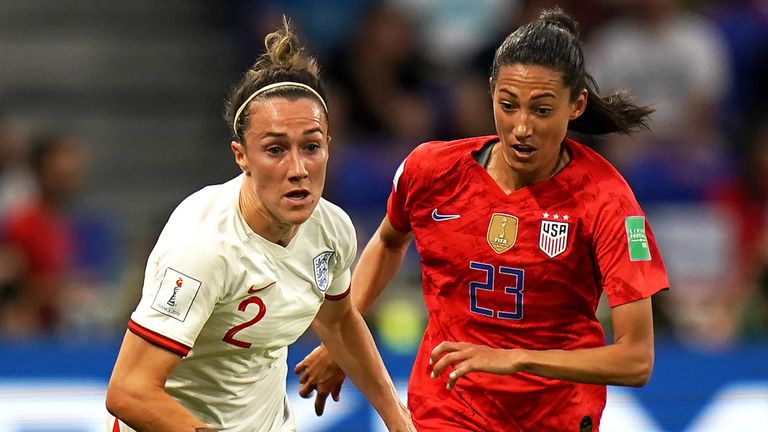 Reflecting on the semi-final defeat, Bronze added: "The difference between us and the US on the day that we played them was a VAR decision and a penalty save. That's two things in one game, which was crazy close.
"I don't even think at the time there was a difference between us. I think they had a really good run of form in that tournament, similar to what we had in the Euros – I think that's the way World Cups and Euros works. The team who's in-form tends to have that slight edge.
"I think we had that over every team in Europe last year and the USA have had it in many tournaments before. I think it's hard to tell now before [the tournament], but I think early on we will be able to see who's in good form. I don't think it'll just be the USA and ourselves that people talk about. There are teams like France, and everybody will talk about Australia."
Rachel Daly reflects on the excitement of the World Cup and how it compares to the Euros, as well as explaining that she is ready to play in any role in Sarina Wiegman's plans.

Walsh went through a tough period during the 2019 World Cup. She drew criticism for some of her early performances, although she continued to play as then-manager Phil Neville showed faith in her.
She has previously spoken about how she considered quitting football after the tournament, but working with sports psychologists helped restore her enjoyment and form that has since catapulted her to success.
"I don't have social media that much anymore," she replied when asked how she is preparing for another World Cup after her previous experience.
Millie Bright says she's very proud to be leading England as captain at this year's World Cup and is pleased with how her recovery has been going from a knee injury.

"I think that was a massive one for me and as much as you say you're not going to look, you look. I think when you're in that headspace, whether it's good or bad, you want to cling onto the bad comments.
"I've just got more confidence in myself and in football, everyone is going to love you or I hate you, it's a game of opinions and I think I kind of had to learn that as I got older.
"The main opinions that matter are Sarina's and my team-mates', so it's having trust in that and believing in what they're saying. At the Euros, I really enjoyed it and stayed in the moment and that's hopefully what I'll do at the World Cup.
"And also draw on my experiences – and enjoy it and have a good time."
What is the World Cup schedule?
The group stage will begin on July 20 and run over a two-week period finishing on August 3 and see group winners and runners-up progress to the round of 16, which takes place from August 5 to August 8.
The quarter-finals, which will be held in Wellington, Auckland, Brisbane and Sydney, are scheduled for August 11 and 12.
The first semi-final will then be played on August 15 in Auckland, with the other semi-final taking place on August 16 at the Accor Stadium in Sydney, which will then host the final on August 20.
A third-place play-off will be played the day before the final on August 19 in Brisbane.
Denial of responsibility!
NewsInnings is an automatic aggregator of the all world's media. In each content, the hyperlink to the primary source is specified. All trademarks belong to their rightful owners, all materials to their authors. If you are the owner of the content and do not want us to publish your materials, please contact us by email –
[email protected]
. The content will be deleted within 24 hours.