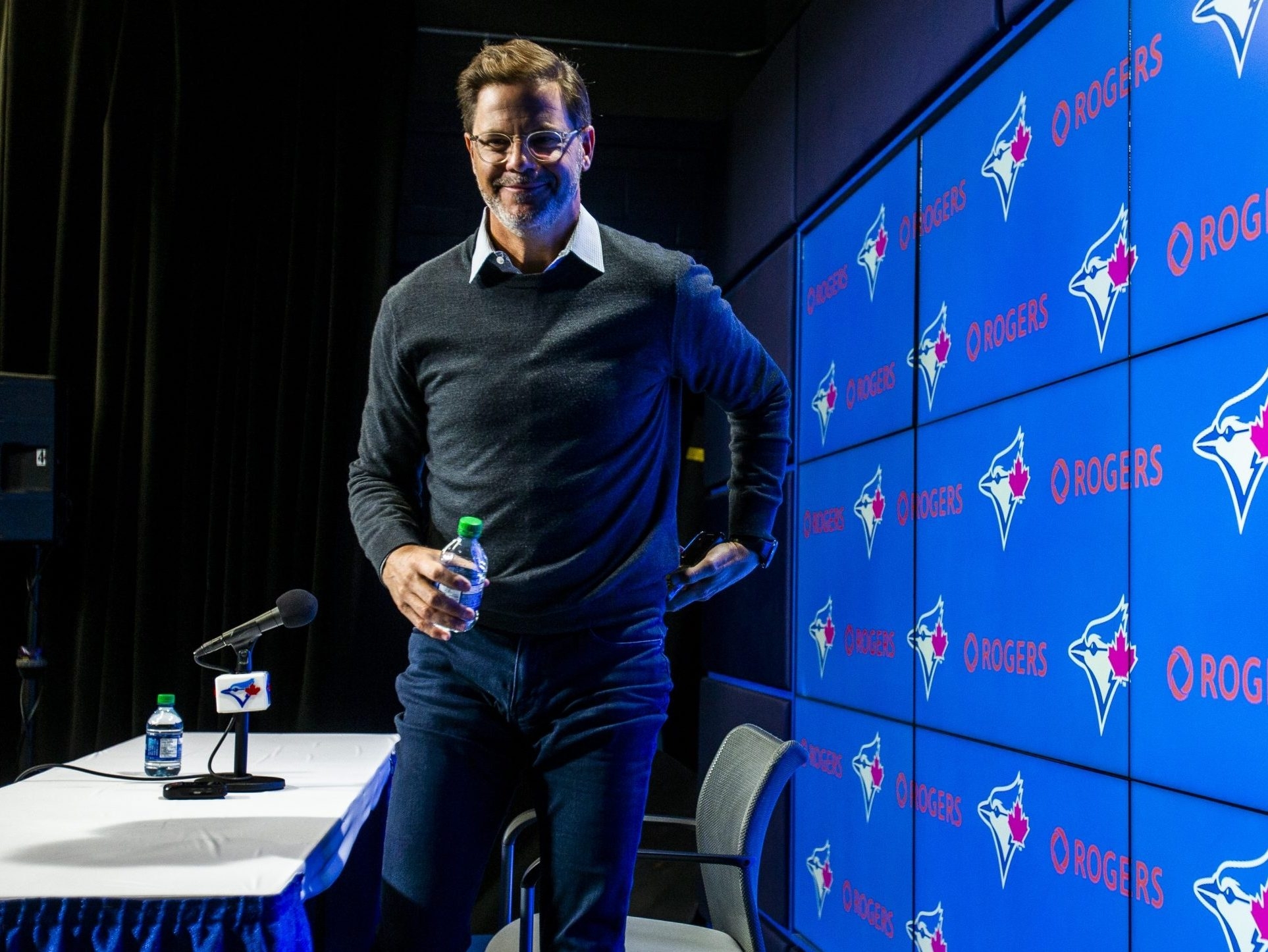 Jays GM Ross Atkins talking Jays at halfway point of season
Get the latest from Steve Simmons straight to your inbox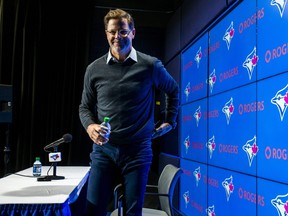 Article content
There is something exasperating about listening to Ross Atkins.
Article content
He uses a lot of words to say almost nothing. He lives in this rose-coloured baseball world of make-believe that seemingly defies logic and reality. Sometimes you want to stop him mid-sentence and say 'Really, you believe that?'
Article content
The Blue Jays hit the mid-season point Wednesday night, not necessarily where they expected to be after 81 games. They have played uneven baseball. They have not lived up to their payroll or their in-house expectations. They are on the cusp of being the sixth playoff team in a sport that had to change the rules to allow six teams from each league to make the post-season.
Article content
Atkins stands like Kevin Bacon in Animal House, maintaining that all is well. Right after that, in the comedy classic, Bacon got trampled on by a marching band. On Wednesday afternoon, as Atkins did his regular halfway season availability, there was no marching band to be found anywhere near him. There was just a whole lot of Jackie Gleason/Fred Flintstone doing hamina, hamina, hamina. And really, it's okay for you to wonder 'What's up with that?'
Article content
The Blue Jays won't be winning the American League East. They might not be catching the Baltimore Orioles for second place. Third in the division remains a possibility. Missing the playoffs, with the Astros, Angels, and Yankees in play, is also in play.
Atkins likes the roster he and Mark Shapiro have compiled. He likes his team, the players, the manager, the coaching staff, just about everything you can like. He likes them because they care. Yep, he said that. The players he's paying millions upon millions of dollars for happen to care. They work hard. They are serious about their jobs. And according to Atkins, they have been the best team in baseball in June, which was only partially true.
When I mentioned to Atkins that Blue Jay fans seem about as frustrated with this team as any team in recent memory, he wasn't sure what to make of any of that.
Article content
The Jays have been the best team in the American League in June. In May and April not so much. The season is six months long. The Jays have a good month to show for that. And when Atkins was asked which players should go to the All-Star Game next month, he didn't name anyone, because he said there were so many players to name he didn't want to leave anyone out.
RECOMMENDED VIDEO
Externally, this is what Atkins thinks, and maybe more than that this is what he wants you to think. If inside the Jays front office, there is satisfaction with the first half of this season, then there is even more reason to wonder about the Jays front office. There have to be concerns. There have to be doubts right now. There has to be tremendous concern about how this is a long list of concerns, quality players and people have been so tremendously ordinary through the first 81 games.
Article content
Ordinary even though Kevin Gausman has been great, Bo Bichette has been great, Kevin Kiermaier has been surprisingly sharp, and the club has been 21-11 in games in which Yusei Kikuchi and Jose Berrios have started, and Jordan Romano has been strong and Brandon Belt leads the teams in quotes and quips.
And never mind that Alek Manoah is caught in a complex situation pitching in a Complex League and Vladdy Guerrero lost his power in a ballpark where home runs were supposed to be easier to hit. And never mind that Matt Chapman looked like an all-time great in April and has even struggled to throw the ball, which is something he has never struggled with before.
Who are these Blue Jays: An 88-win team or one poised to deliver a big run?

Something fishy on off-day for Blue Jays' Brandon Belt

Struggling Blue Jays starter Alek Manoah rocked in Florida rehab outing
Article content
Or as manager John Schneider points out rather accurately in his first full big league season, the Jays have been "consistently inconsistent."
Unlike his boss, Schneider tends to speak the truth. Or something closer to it. Like his boss, he "loves the team we have." He likes how serious the players are, and how much they talk about what's right and wrong with the Jays. He's smart enough to know the first-half meanderings of the Jays are not "bad luck," optimistic enough to know that every baseball season is full of ups and downs and the time to put the downs behind them is now.
"We haven't really fired on all cylinders," said Schneider, who wanted a team that was fundamentally sharper this season but that hasn't been the case from night to night. "There's a lot of chances for us to play in sync, as I call it." There's room for improvement.
Article content
"One day we're hitting and not pitching or pitching and not hitting," said Schneider.
RECOMMENDED VIDEO
"I feel good about where we are today," said Atkins, the Jays resident Mr. Happy. He believes in the process. We all believe in the process. Those are the magical words today in professional sports. Process is running away in the American League. "I'm exceptionally confident that this team will score runs."
The Jays are sixth in the AL in runs scored, fourth out of five teams in the AL East, 10th in the AL for run differential. They are 25th in the Major Leagues in hitting with runners in scoring position. "I know those outcomes will turn," said Atkins. He is, after all, exceptionally confident about the Jays offence.
He said it. You didn't. He apparently believes it. There are 81 games left in the season. Time to prove or disprove all kinds of theories.
Denial of responsibility!
NewsInnings is an automatic aggregator of the all world's media. In each content, the hyperlink to the primary source is specified. All trademarks belong to their rightful owners, all materials to their authors. If you are the owner of the content and do not want us to publish your materials, please contact us by email –
[email protected]
. The content will be deleted within 24 hours.