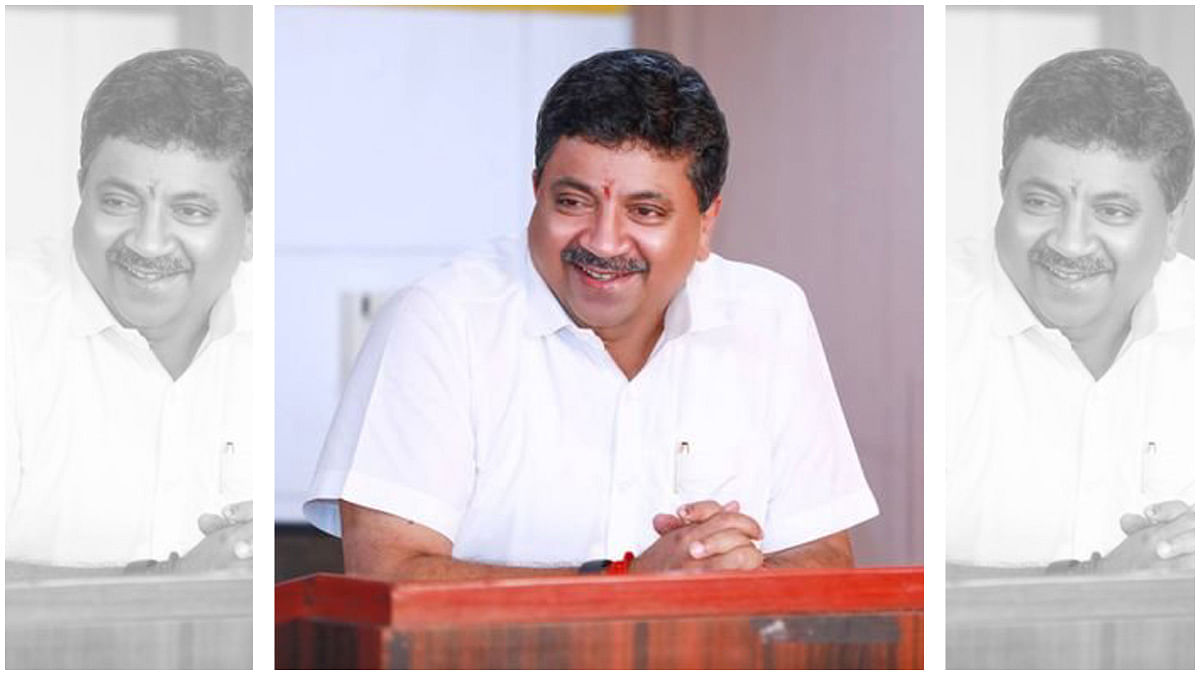 In Round 2 of PTR's battle of viral audio clips, TN minister says recording fake, BJP suggests forensic test – ThePrint – Select
Chennai: After BJP Tamil Nadu chief K. Annamalai released a second audio clip that purportedly shows state Finance Minister Palanivel Thiaga Rajan (PTR) criticising the ruling DMK and praising the BJP, the latter released a video claiming the audio was "fabricated". 
In the nearly 5-minute video, Thiaga Rajan cited three examples of deep fake videos — one of BJP MP Manoj Tiwari and two of former US Presidents Barack Obama and Donald Trump — to drive home his point. "If such authentic looking videos can be machine generated, imagine what all can be done with audio files."  
Denying that he had made comments against his party and its leaders, PTR praised DMK president and Chief Minister M.K. Stalin, as well as his son — Sports Minister Udhayanidhi Stalin — and son-in-law V. Sabareesan. 
The first audio clip had surfaced on social media on 19 April and went viral overnight, with several BJP leaders widely sharing it. The second clip was released by Annamalai Tuesday. In the first clip, Thiaga Rajan is purportedly heard saying that Udhayanidhi Stalin and Sabareesan had amassed huge ill-gotten wealth in a year. In the second, he is allegedly heard criticising the functioning of the DMK and praising the BJP for its "one person, one post" structure.
Reacting to the first audio clip, Thiaga Rajan said in a statement dated 23 April that the audio was fabricated. "Whatever I am, and whatever I have done in public life, is because of my leader, DMK president and Honourable Chief Minister M.K. Stalin," he added, saying "more audio and even video clips with ever-more malicious content" can be expected in the coming days.
In response to PTR's video statement on the second clip, BJP leader Amar Prasad Reddy posted a video of his own on Twitter, challenging the minister to prove that the voice in the audio clip was not his.
"The first audio you said was tampered with, but, in the second audio clip, your voice is crystal clear. I throw an open challenge at you. Let's go to any recognised Indian digital forensic laboratory and check whether the voice is yours or not," he said.
"If it is proved that the voice is not yours, we will ourselves tell CM Stalin that it is not yours. You have spoken the truth this time. Why are you afraid now? Will they remove you from the party? You can start your own party as well," he added.
Referring to the controversy, author and political analyst Nilakantan R.S. said "releasing a private conversation — whether real or fake — to the public, has to meet certain standards".
"This is simply not the case in these audios," he added. "Vague insinuations — real or fake — don't rise to the level of public interest that warrants breach of privacy." 
---
Also Read: DMK's rising star or crowned too soon? Inside MK Stalin's son Udhayanidhi's swift ascent as minister
---
'DMK one extended family'
In his video, Thiaga Rajan said "nobody accepts ownership for… the source of [the audio]".
"The state president of the BJP (Annamalai) has descended to posting an audio of somebody telling nobody about some others. This is the base level of his politics," he added.
Heaping praises on Stalin, he said that the DMK government under his leadership had delivered "record breaking, innovative and compassionate administration". 
Calling these achievements the "Dravidian model of governance", he said the two years since the DMK had taken office had seen more financial reforms than the preceding decade, adding that the performance is superior to what the Union government had achieved.
He said Stalin was the guiding light of Tamil Nadu and hope of the country. Udhayanidhi, he added, had surpassed all expectations with "his outstanding performance as a minister". 
Udhayanidhi is hands-on and a grassroots administrator very much like his father, he said. "He is making TN the centre of attention of the international sports world. How is it possible that I could say anything about such an outstanding performer?" 
He further argued that the DMK ministers were working as a cohesive team to achieve  spectacular results. 
Talking about Sabareesan, whom the BJP has accused of money laundering in their alleged "DMK Files" expose, Thiaga Rajan said, "From my first day in public life Sabareesan has been my most trusted adviser, guide and pillar of support."
Thiaga Rajan said "such fabricated audios are being generated in a vain attempt to cast aspersions" on Udhayanidhi and Sabareesan.
He alleged that there is a desperate attempt by a "blackmail gang" to achieve "political ambition by creating a rift within us". 
"From the inception of the DMK we have lived as one movement, one party and one extended family and we will always do so," said Thiaga Rajan.
(Edited by Geethalakshmi Ramanathan)
---
Also Read: MK Stalin is in troubled waters—DMK files, Factories Act, VP Singh statue
---
Denial of responsibility!
NewsInnings is an automatic aggregator of the all world's media. In each content, the hyperlink to the primary source is specified. All trademarks belong to their rightful owners, all materials to their authors. If you are the owner of the content and do not want us to publish your materials, please contact us by email –
[email protected]
. The content will be deleted within 24 hours.