British aristocrats push King Charles for reparations : NPR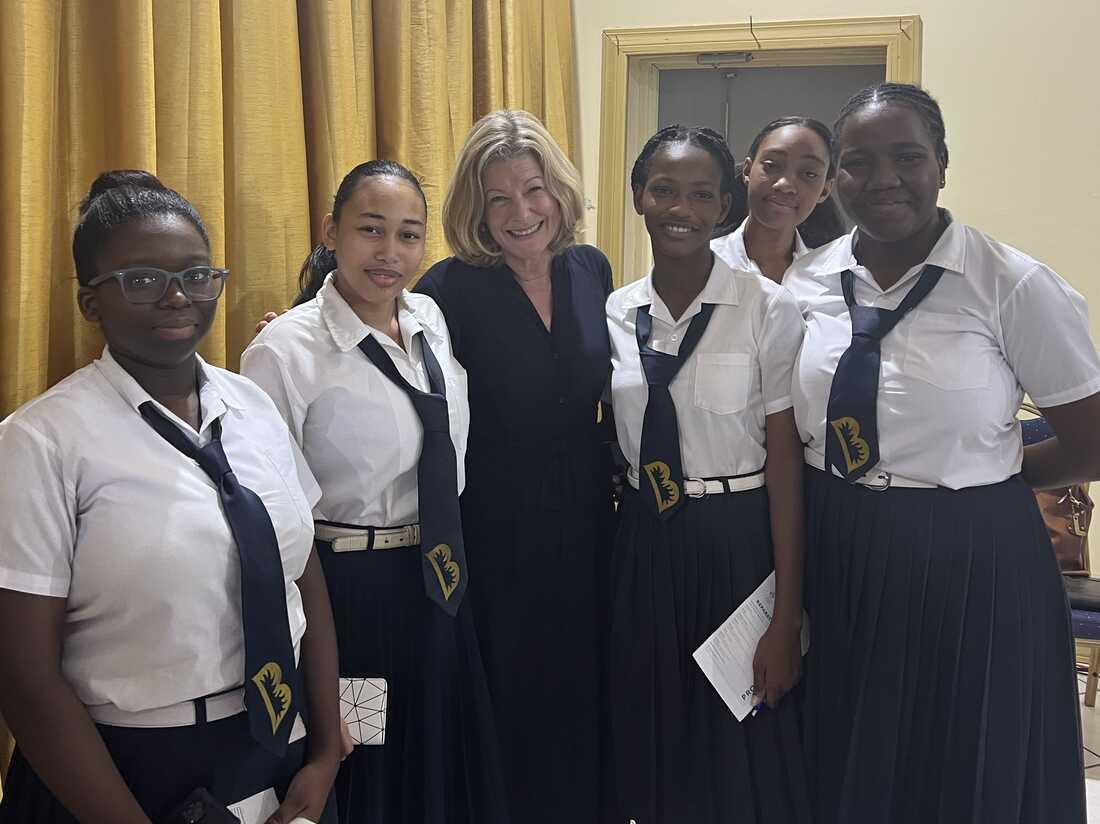 courtesy of The University of the West Indies/Laura Trevelyan
When Laura Trevelyan, a longtime anchor and correspondent with the BBC, began reckoning with her own family history, she was shocked. "It seems pretty extraordinary that my ancestors enslaved Africans on the Caribbean island of Grenada," she says, and that even after slavery was abolished by the British parliament, none of the families of the enslaved received reparations. To Trevelyan, its "extraordinary" that no one paid reparations to the families of more than a thousand Africans who were enslaved by her ancestors across six plantations on Grenada.
That's why she felt compelled to help found a new reparations effort. She linked up with like David Lascelles, who is a second cousin of King Charles III and heir to an estate built on earnings from the slave and sugar trades on the island of Barbados.
They co-founded a group called Heirs of Slavery, which encourages wealthy British families who profited from past enslavement to make formal apologies and seek reparative justice in the former Caribbean colonies.
Reynaldo Bernard/Laura Trevelyan
In a period of more than 150 years, it's estimated that the British Empire traded 3.1 million Africans to the Caribbean, North and South America and elsewhere. The slave trade was abolished by Britain's parliament in 1807. An act of emancipation was passed in 1833. But Trevelyan says it wasn't until 2016 when University College London published an online database of compensation that she discovered a startling injustice.
Enslavement, abolition and compensation
"It wasn't the enslaved who received compensation. It was the slave owners who were paid because that was the only way that abolition could get through Britain's parliament," Trevelyan tells NPR's Michel Martin. "What was already a horrific situation was then made even more unfair."
Trevelyan and Lascelles say they learned their ancestors earned the equivalent of millions of dollars in compensation when slavery was abolished. Trevelyan has donated a portion of her BBC pension to reparations and, in February, she and other family members traveled to Grenada to make a formal apology.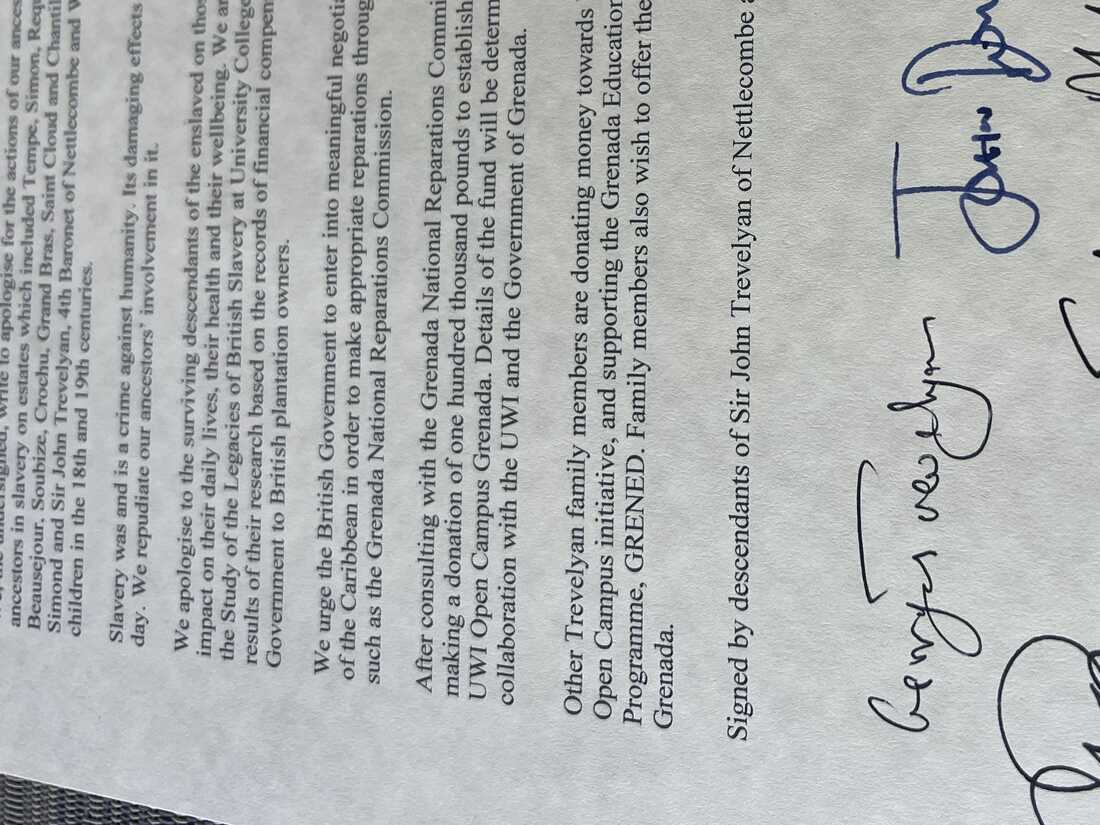 Lascelles, who is a descendant of George V and a family that built Yorkshire's Harewood House, tells Morning Edition he discovered much of his ancestors' history through boxes of archival papers related to businesses in the former British West Indies and stored on his family's estate.
"They were in very, very fragile condition. They were in boxes that [were] shoved behind a boiler in the basement of the house. But clearly, once it was out in the open, I've made it very clear that it was something we had to address and speak openly about," Lascelles says.
Lobbying the royal family
Trevelyan says she and other members of wealthy British families want to set an example through "coalition building." And they're asking King Charles to join them. Although Lascelles says he and the king don't have a personal relationship, he predicts Charles is likely to be open about the royal family's own discoveries.
"They are researching their own history and they are talking openly about that and even given a timescale and when the kind of fruits of that research will happen," Lascelles says.
The group is also calling on the British government to engage with CARICOM, the Caribbean governments reparations commission, which asks the former colonial powers for debt relief and for investment in health and education.
Reynaldo Bernard/University of West Indies
"These are areas where the Caribbean was left with nothing when emancipation happened and slavery ended," Trevelyan says.
Trevelyan points to a "long overdue reckoning" with reparations funds established by entities from the Dutch government to the Church of England. Although most people in the U.S. oppose reparations, Trevelyan hopes it will be different in Europe.
"It's ugly and it's difficult," says Trevelyan. "But it's important to talk about how the present is defined by the past. And acknowledgement is hopefully the beginning of healing."
"It's about responsibility in the end, isn't it?" Lascelles says.
Jan Johnson and H.J. Mai contributed editing.
Denial of responsibility!
NewsInnings is an automatic aggregator of the all world's media. In each content, the hyperlink to the primary source is specified. All trademarks belong to their rightful owners, all materials to their authors. If you are the owner of the content and do not want us to publish your materials, please contact us by email –
[email protected]
. The content will be deleted within 24 hours.